Normally, residential real estate sales activity slows down dramatically over the winter…
Around this time of year in San Francisco, we're used to seeing noticeable drops not only in listing prices, but also inventory and number of transactions.
Indeed, if we look at data on single-family and condo listing prices from the last few winters, we see significant decreases around November/December, with rebounds in February/March: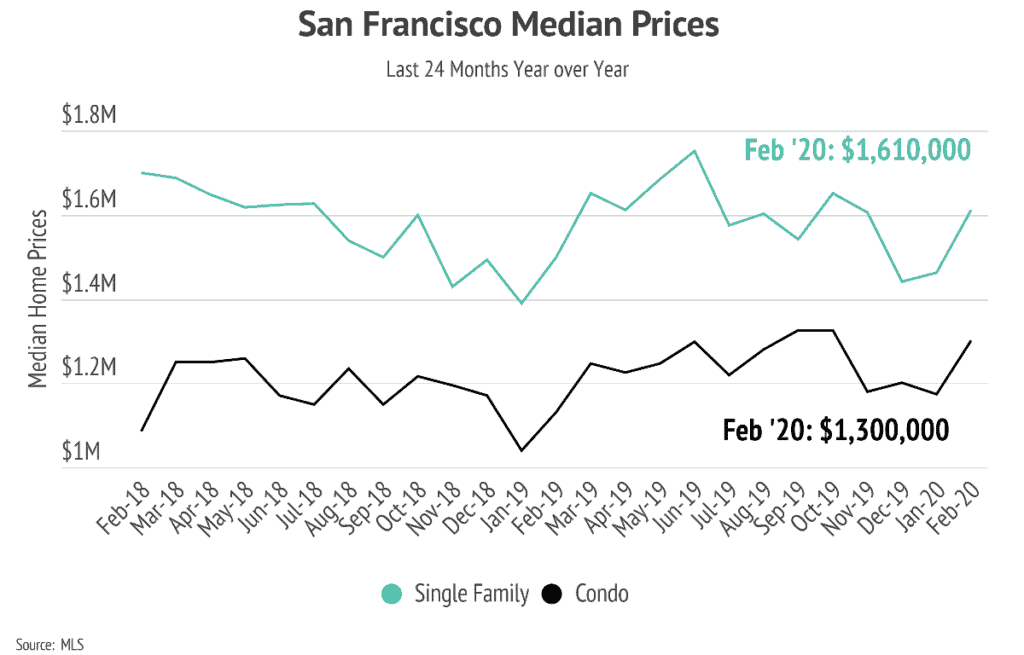 However, we expect this winter will be very different.
We believe we will see more sales activity between December 2020 and March 2021 in San Francisco than in any other recent winter.
This is down largely to three factors:
1.   Cabin Fever
Many of our clients have left SF condo buildings in pursuit of larger living spaces this year. This is understandable, given the rise of working from home and remote schooling, coinciding with growing concern around shared spaces.
As more and more families cancel their holiday travel plans and spend more time indoors due to colder weather, we expect this trend will only continue; single-family homes around the Bay Area will drive great interest and many multiple offer situations.
2.   Stock Market Highs
As many news outlets reported just after the election, the incoming divided government has been positive news for investors. This is because the division in government makes it harder to pass tax hikes, regulatory action, and fiscal stimulus. As a result, the major stock market indices have recorded strong growth since Election Day.
However, JP Morgan predicted this week that the U.S. economy will contract by 1% in the first quarter of 2021, due largely to rising COVID-19 cases nationwide. This means that potential homeowners whose wealth is largely held in equities have just a few months to liquidate their shares and invest in real estate before the market likely takes a hit early next year.
3.   Interest Rate Lows
In 2020, benchmark mortgage interest rates have set new record lows. In fact, we have blogged about this several times, including here and here. And despite our surprise, these rates have continued to fall, now hovering around 3% for the conventional 30-year fixed. 
Will interest rates continue to fall? Different sources offer differing predictions. A new analysis from Nerdwallet shows that recent presidential handovers have had mixed effects on mortgage interest rates. However, even small hikes in interest rates can mean dramatically higher costs over the life of your loan.
As a result of where rates currently are, expect to see more would-be homebuyers take action.
So what's our main takeaway? 
Despite the conventional wisdom, we believe the pool of motivated, qualified buyers in San Francisco will be much larger than usual over the next few months.
Meaning that if you're thinking about selling, especially a single-family home in the city, this winter could be an amazing opportunity if you act quickly!
Reach out with any questions!
–

Careers
"*" indicates required fields