Recently there's been a lot of confusion around how budget cuts at the USPS could affect the November elections.
Many across the country worried about Postal Service's ability to deliver and return their ballots in time to be counted. And as the Pew Research Center has shown, the share of Americans voting by mail has grown significantly over time: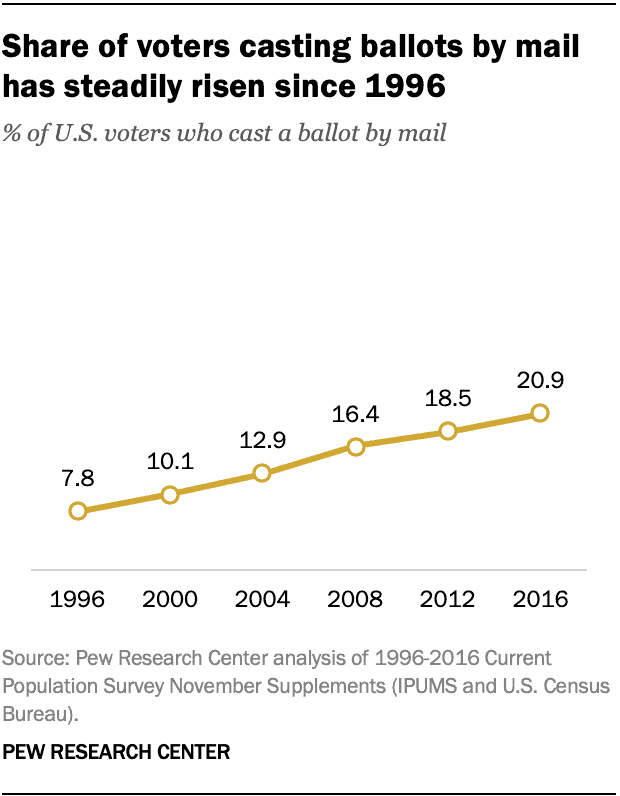 Fortunately, we now seem to have a solution. Yesterday the Postmaster General announced he will delay cutbacks in service until after the election.
We don't need to get into the politics of this decision-making, but still want to make your voting options clear.
First, as a quick reminder of the key dates, you should register to vote by October 19th if you want to participate in Election Day on November 3rd.
But what about casting your ballot? Well, you have options…
Here are all the ways you can vote in San Francisco:
By Mail:   If you're a registered voter in California, you will receive a mail-in ballot at your home address. You can sign up for updates on your ballot here.
Using The Accessible Vote-By-Mail (AVBM) Service:   While designed for voters with disabilities and in other special categories, the AVBM Service is now available for any registered voter in the state. Learn more here.
At the City Hall Voting Center On Or Before November 3rd:   Starting October 5th, any San Francisco resident can pick up or drop off a ballot (and access other services) at the City Hall Voting Center. This will be located outside the Bill Graham Civic Auditorium at 99 Grove Street.
At Your Polling Place On November 3rd:   Despite the COVID-19 pandemic, San Francisco will provide 588 safe polling places for voting the old-fashioned way. Find your polling place here.
By Authorizing Another Person To Pick Up Your Ballot:   There are two circumstances that allow you to authorize another person to pick up your ballot for you:

Beginning October 5th:   Any registered voter may, for any reason, authorize a family member or housemate.
Between October 28th – November 3rd:   Any registered voter unable to travel to the polling place because of disability, illness, or home confinement may authorize any other person. During this period, hospitalized and other homebound voters can also request the SF Department of Elections to deliver their ballots.

Conditional Voter Registration And Provisional Voting:   If you miss the voter registration deadline on October 19th, you can cast a provisional ballot at the City Hall Voting Center at 99 Grove Street.
While this guide is for SF voters, San Mateo and Alameda county residents can learn more by following the links below:
And if you have any further questions, please
schedule time with us!