What immediately comes to mind when you think about the year ahead? Well, if you're like most people — or have paid attention to the news at some point over the past 12 months — it can only be one thing…the 2020 Presidential Election!
A lot of our buyer and seller clients are concerned about how the Election will affect the housing market. Realtor.com's national housing forecast predicts a 1.8% fall in sales nationwide from 2019 levels. This report suggests average house prices will fall in many major metropolitan areas — including a 0.4% drop across the Bay Area — partly because of insufficient supply for entry-level millennial buyers clustered around those urban centers. However, this MarketWatch report argues that the creation of new supply will only be felt in particular areas depending on election outcomes. In other words, a Democratic victory would lead to more new single family home permits in blue counties, while a Trump re-election would achieve the same effect in red counties.
The fact is, no one knows exactly what will on Election Day, and this uncertainty isn't good for markets.
We've seen recently how recent events have taken their toll on global stock markets. These include concerns over the Impeachment process, US-China trade disputes, and the spread of Coronavirus.
Instead of speculating on what might happen in 2020, let's look at the data to see what is actually happening right now in the San Francisco housing market:
It's (Currently) A Seller's Market
This is a great time to be a seller in San Francisco. As the graph below shows, right now supply levels are extremely low in real terms and compared to where they were a year ago. Such low inventory gives sellers the advantage at a time of continued robust demand.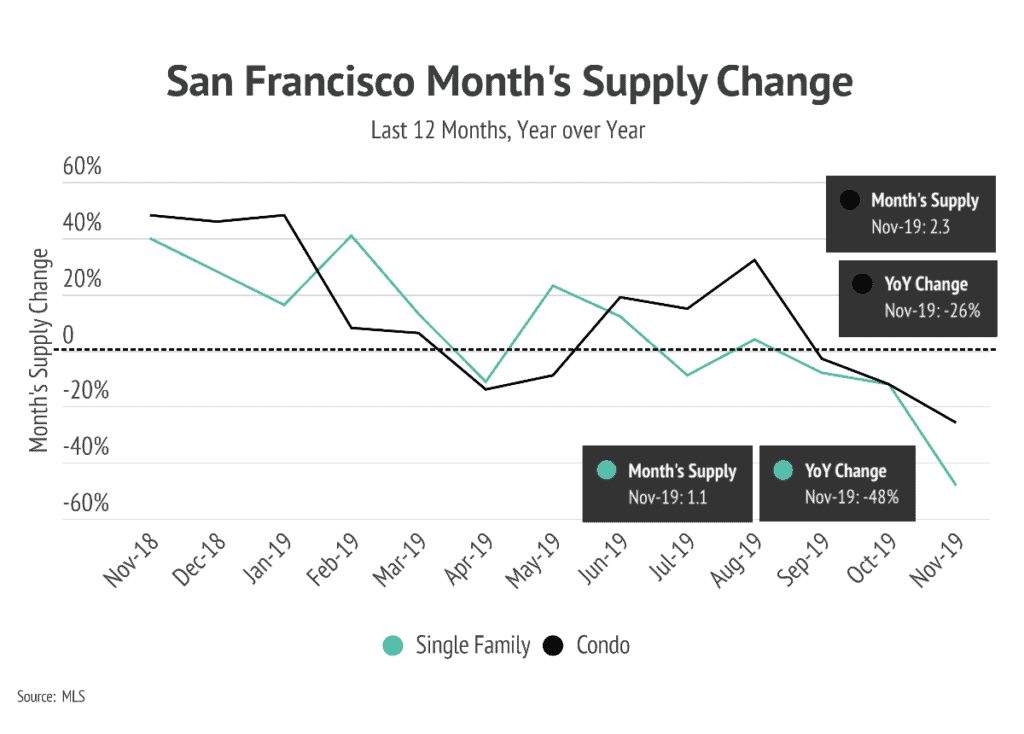 For Buyers, Record-Low Interest Rates
On the other hand, buyers can also feel hopeful about present conditions. One trend that helps buyers across the country is the benchmark for mortgage interest rates. Fannie Mae expects the average U.S. rate for a 30-year fixed mortgage in 2020 and 2021 to be 3.7%. This marks a considerable drop from averages of 3.9% in 2019 and 4.5% in 2018. In addition, Freddie Mac noted that average monthly mortgage rates are at their lowest point in three months and just a quarter point above all-time lows, with average 30-year fixed rates for January 2020 at 3.6% and 15-year fixed rates at 3.04%.
Overall Market Performance Trumps Elections
As we always like to say, San Francisco real estate is a good long-term bet. Despite average national declines in housing sales activity in the years of/immediately after presidential elections, this is not the case here. Instead, historical data show that the growth of San Francisco's housing over the past 35+ years has closely followed the performance of the overall stock market. Over time this growth follows a step pattern: strong positive growth when the economy is good —  including 91% growth in average home prices between 2012 and April 2019 — and smaller drop-offs during periods of recession.
The Bottom Line:
To sum up, there is reason for optimism. Regardless of who occupies the White House after November, we feel there are encouraging signs for both sellers and buyers as well as the overall market in San Francisco. We'll continue to monitor the latest data closely to keep our clients up to speed.
In the meantime, we'd love to hear from you!
 

Careers
"*" indicates required fields