Welcome to our November newsletter. This month, we discuss the state of the economy, COVID-19, and potential economic stimulus. We will also look at forecasts for the housing market now that we are entering autumn. Overall, the housing market has shown significant price growth over the second quarter, showcasing the strength and stability of residential real estate. Year-over-year sales have also increased considerably through the summer months. As we enter autumn, we believe the housing market is positioned for continued growth in both sales and price appreciation. As the market changes, we will continue to provide the most up-to-date housing information to support your buying and selling decisions.
In this month's newsletter, we cover the following:
Key Topics and Trends in November: More than half of those jobs lost in March and April have now been recovered, but hiring has slowed, and some large companies are announcing layoffs. In California, COVID-19 cases have been declining since mid-August, although the decline over the last month has been less pronounced. Plans for additional economic stimulus for individuals and small businesses remain uncertain.
November Housing Market Updates: High buyer demand, coupled with low inventory, have caused single-family home prices to climb higher. The condo market has continued to rise as well, as high buyer demand buoys prices despite higher inventory.
---
Key Topics and Trends in November
The Labor Department reported that employers added 661,000 new jobs in September, which is fewer than half the jobs added in August and about a third of those added in July. This trend indicates a slowdown in hiring. If the hiring rate remains at current levels, it will take 16 months to recover the jobs lost in March and April; however, it will take even longer if the hiring rate continues to slow.
As of September 26, 12.5 million workers remained unemployed—an unemployment rate of 7.9%. More than 800,000 newly unemployed workers are filing initial unemployment claims each week, and 11.8 million are continuing to collect unemployment (see figure below).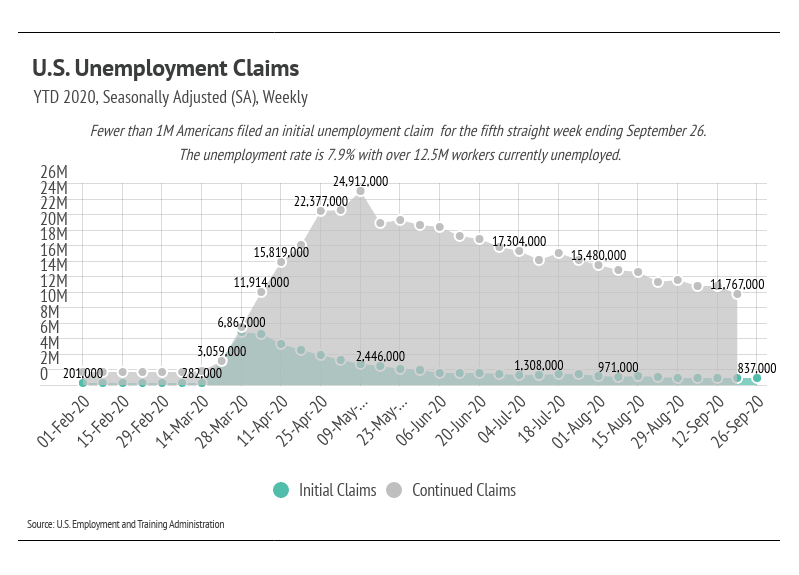 Despite high rates of unemployment and an economic downturn, housing has held onto its value, particularly in the San Francisco Bay Area. Pandemic-induced economic impacts disproportionately affect workers without college degrees—individuals who were likely not in the housing market in the first place. And, as the Bay Area employs a high number of skilled workers with college degrees, its unemployment rate is lower than other areas of the United States, and its housing market is holding strong. Now, more than ever, the more highly skilled and educated a person is, the more likely they will be able to afford a home.
As we enter autumn, we are uncertain whether or not federal stimulus aid for individuals and businesses affected by COVID will come before or after the election. The immediate risks to the housing market, however, are fairly low. The Mortgage Bankers Association's (MBA) Research Institute for Housing America (RIHA) reports that, for the most part, homeowners were able to continue their mortgage payments; however, renters struggled to pay rent. This should come as no surprise; only 6% of homeowners reported collecting unemployment by the end of June, while the percentage of renters collecting unemployment was more than double that.
Despite our struggling economy, the housing market has maintained its value, and homeowners have navigated this uncertain time well.
---
November Housing Market Updates for the East Bay
Single-family homes had the largest year-over-year gain of 2020 with a median home price of $1.03 million in Alameda and $805,000 in Contra Costa.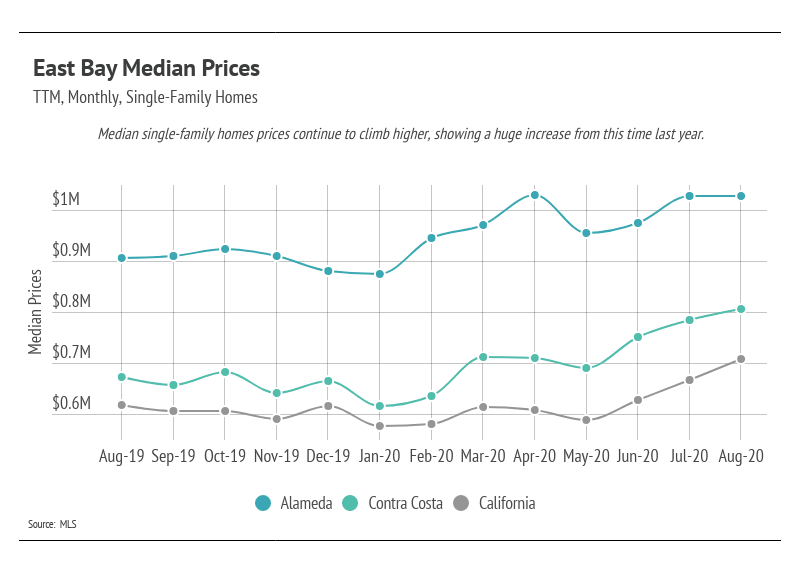 Year-over-year, median single-family home prices were up 14% in Alameda and 20% in Contra Costa.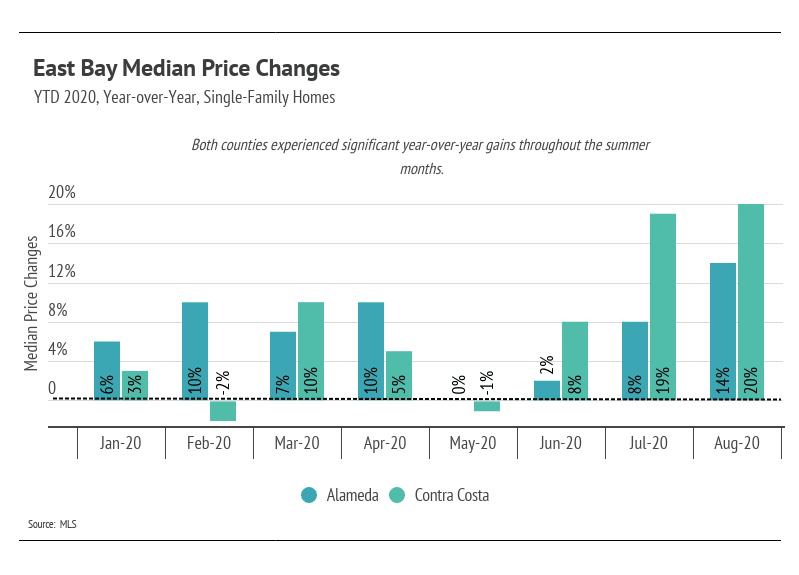 Median condo prices rose as well. Contra Costa saw a significant increase, up 12% year-over-year.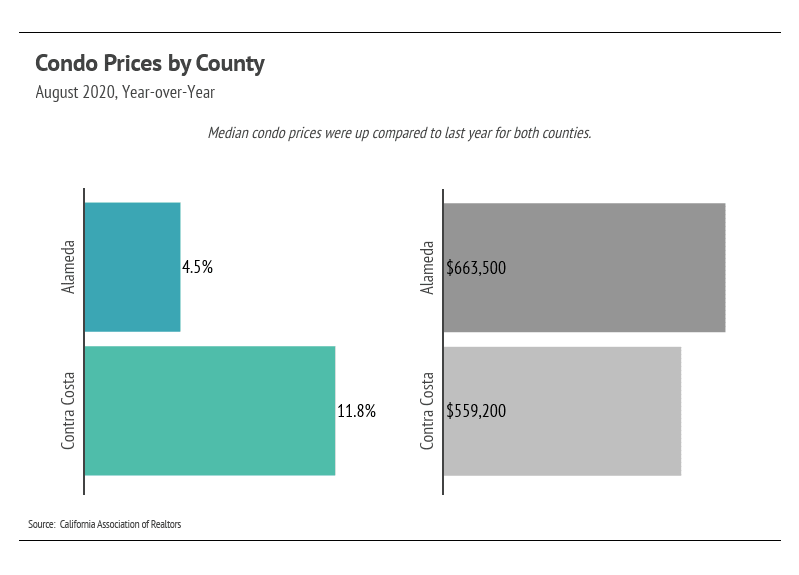 Total inventory decreased in August, as the number of homes under contract rose for both single-family homes and condos. Lack of supply compared to demand typically buoys Bay Area prices, and this is still the case for single-family homes with more than 1000 fewer homes for sale than this time last year.
The number of condos on the market, however, remains at a two-year high. Condos in the East Bay have not experienced a price decline, even with more inventory. The large supply of condos has successfully given buyers a greater opportunity to find the right home for them, which we can see by the number of homes going under contract. The East Bay has needed more supply for quite some time; so, even though more condos are on the market, we are seeing a large increase in purchases.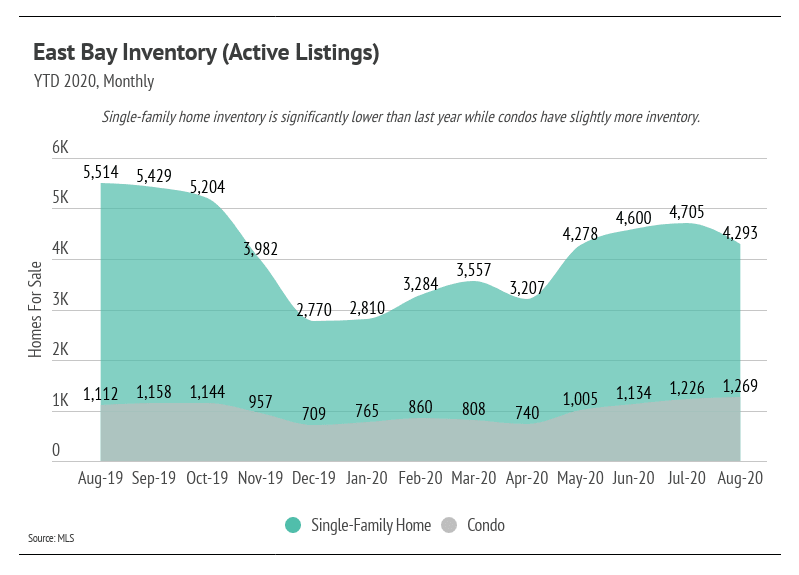 To understand buyer and seller sentiment, we can look at how new listings and homes under contract factor into the total inventory in a given month. Using 2019 as a normal year, relative to 2020, we can see the year-over-year abnormalities and seasonal changes.
During the initial months of the pandemic (March, April, and May), buyers and sellers hesitated to enter the market or withdrew from it entirely. Buyers of both single-family homes and condos mostly stayed out of the market from March through May, causing inventory to build.
New listings for single-family homes increased slightly in July and August, but were met with a dramatic increase in sales. Condos were different in that new listings outpaced buyer demand in July and August, continuing the rise in inventory.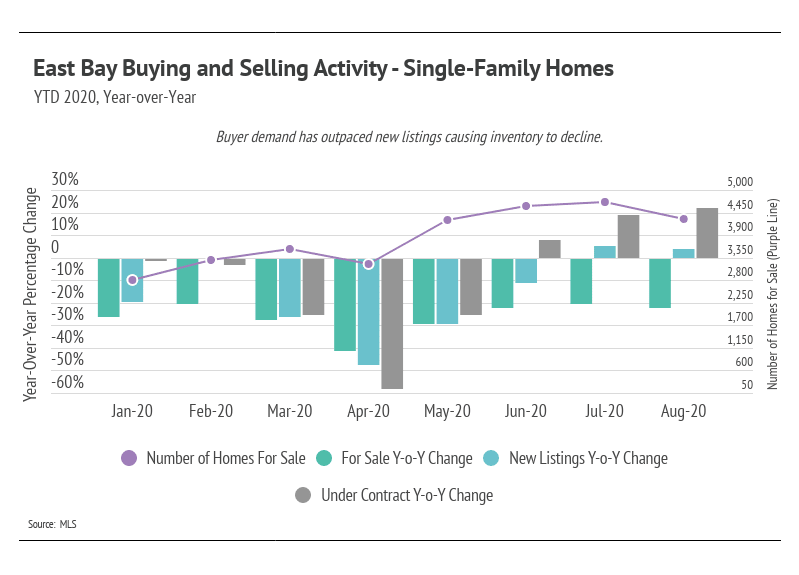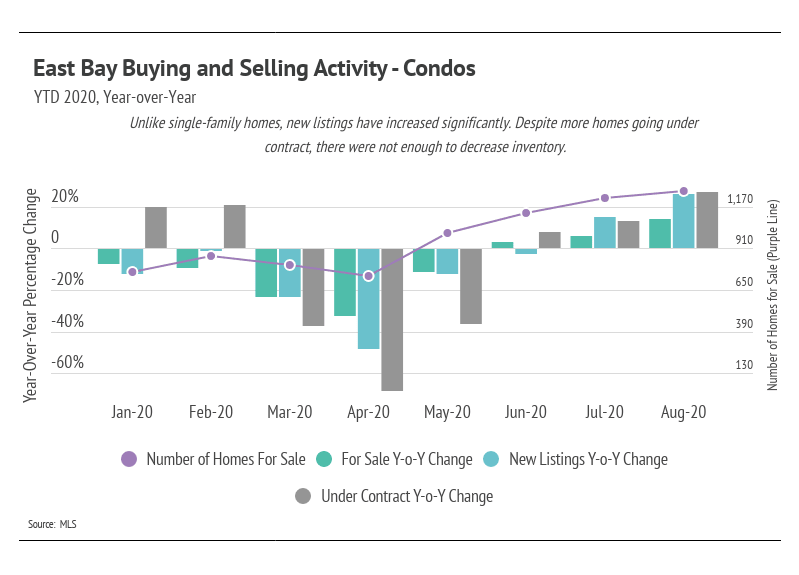 The Days on Market (DOM) trended down as buying activity increased. Single-family homes under contract were up 22%, with contracts on condos up 27%, showing the high demand in the area. The pace of sales contributed to the reduction of Months of Supply Inventory.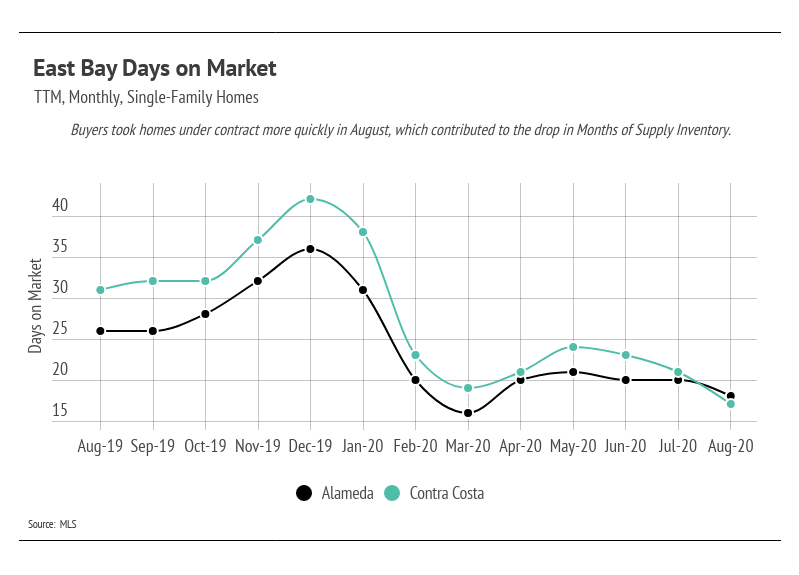 We can look to Months of Supply Inventory (MSI)—the measure of how many months it would take for all current homes for sale on the market to sell at the current rate of sales—as a metric to judge whether the market favors buyers or sellers. The average MSI is three months in California, which indicates a balanced market. An MSI lower than three means that buyers are dominating the market and there are relatively few sellers (a sellers' market), while a higher MSI means there are more sellers than buyers (a buyers' market). The MSI for single-family homes is typically below three, but an MSI of 0.8 is quite low, heavily favoring sellers. The MSI for condos was closer to balanced at 2.4 for both Alameda and Contra Costa.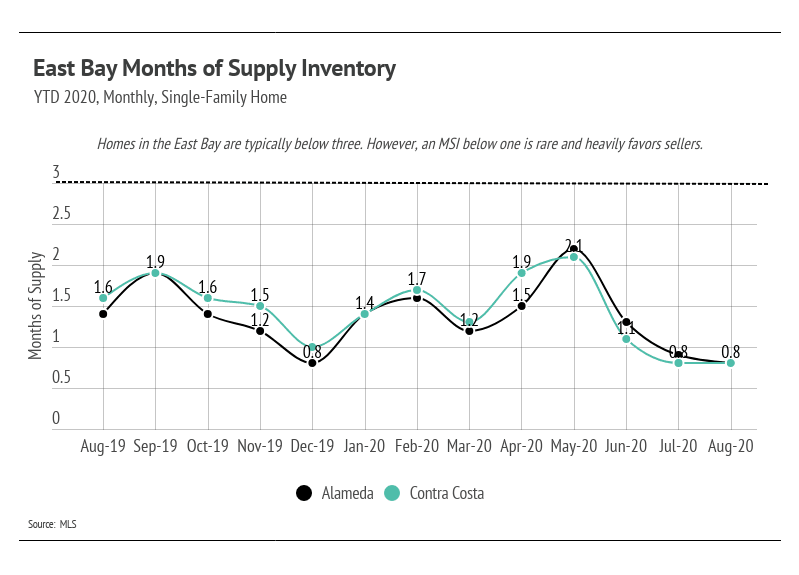 In summary, the higher inventory levels in the condo market have not affected price, and we can see that MSI still favors sellers. The single-family home market is heavily undersupplied, a byproduct of the desirability of the East Bay. Overall, the housing market has shown its resilience through the pandemic and remains one of the safest asset classes. As we digest seemingly endless stories on negative economic data, we are pleased to report that home ownership has offered a sense of stability.
Moving forward, we anticipate new condo listings to slow. Home prices will likely remain stable. The fall/winter season tends to see a slowdown in activity, as well, although this year we may see a new trend.
As always, we remain committed to helping our clients achieve their current and future real estate goals. Our team of experienced professionals are happy to discuss the information we have shared in this newsletter. We welcome you to contact us with any questions about the current market or to request an evaluation of your home or condo.