Most coverage of the California Affordability Crisis addresses the effects on low-income people, renters, and first-time homebuyers. An April 2019 report from the independent California Budget & Policy Center confirms that these groups are indeed most vulnerable to sharply rising property values and little investment in affordable housing stock across the state. However, another often-overlooked group is also feeling the squeeze…
In short, many older homeowners across California, even those who have built up substantial equity in their homes, are struggling.
Firstly, consider some of the data collected in that same California Budget & Policy Center report: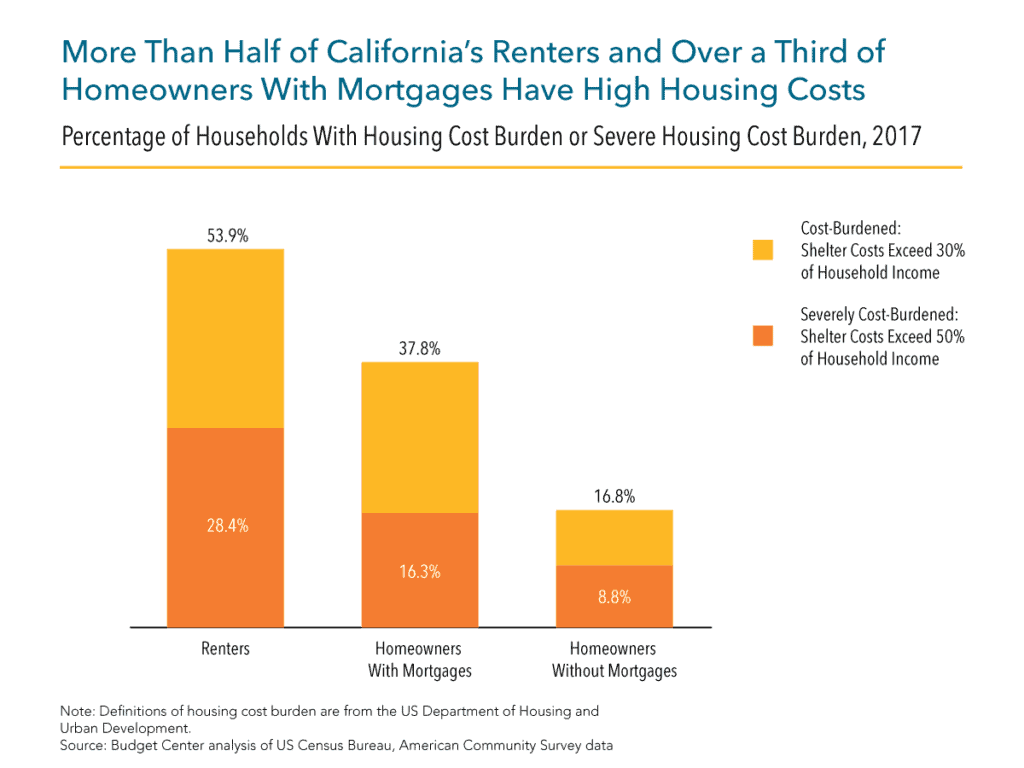 The data show vast proportions of California homeowners ⁠— both with and without mortgages ⁠— are "cost-burdened" (spending >30% of their income on housing) or "severely cost-burdened" (spending >50% of their income on housing):
With Mortgages:

37.8% cost-burdened, including 16.3% severely cost burdened

Without Mortgages:

16.8% cost-burdened, including 8.8% severely cost burdened
Most cost of living studies support this. For example, one well-known study by 24/7 Wall Street used figures from 2017 to show that California is home to 11 of the country's 35 most expensive regions, including four of the top six: Santa Cruz-Watsonville (#6), Santa Rosa-Petaluma (#5), San Jose-Sunnyvale-Santa Clara (#2), and San Francisco-Oakland-Berkeley (#1).
But let's look closer at where our team focuses: the "San Francisco-Oakland-Berkeley" region. (This includes all of Alameda, San Mateo, Marin, and Contra Costa counties.) For this region, the authors estimated a monthly living cost of $5,194 per adult, including $1,742 in housing costs. In short, this means two things:
The average adult in this region allocates almost 34% of their living costs to housing.
For empty nesters, the average income needed to live comfortably is $62,328 for one adult and $124,656 for two. 
Many of those approaching retirement with fixed incomes and unpredictable expenses will certainly feel financial pressure. A number of our clients have decided likewise to sell their homes in search of more affordable places to retire. On the other hand, the opportunity to move closer to children seems to be a more widespread motivator. According to a recent LendingTree study of Americans planning to sell their homes in the next decade, 21% said they are moving primarily to be closer to their children, compared to 18% who said they will do so just to retire.
The Bottom Line
Above all, we understand that selling your long-standing family home is a difficult decision. If you are in the Bay Area and decide this is the right option for you, we would love to help you. Please do not hesitate to get in touch.
Also, if you are curious about the value of your property, use the tool below:
 

Oops! We could not locate your form.